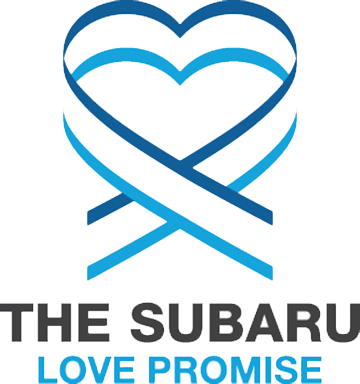 What is the Subaru Love Promise?
Subaru and our retailers believe in making the world a better place and the Subaru Love Promise is our vision of respecting all people. This is our commitment to show love and respect to our customers and to work to make a positive impact in the world.
How is Kenosha Subaru dedicated locally to the Love Promise?
Our Love Promise can be seen in various partnerships with local charities and non-profits. We're grateful for the opportunity, not only to be a part of our community, but to serve it as well.
Kenosha Forgotten Friends, Safe Harbor
St Joseph Catholic Academy
Kenosha Home/Health Expo, St Catherine Hospital, Aurora Cancer Center
Love Promise Stories from Kenosha Subaru
Subaru and Kenosha Subaru believe in making a positive impact on the communities in which we live and work. We uphold that belief through our Love Promise Community Commitment. Every month, we select inspiring stories from customers and partners from around our area who strive to support our collective commitment and feature them here
Subaru and Safe Harbor Breaking Adoption Records - Adolfo D
Safe Harbor Humane Society of Kenosha had the wonderful opportunity to partner with Subaru in October of 2020. At that time, Safe Harbor was experiencing their highest animal population in years as a result of three major animal hoarding cases that hit the shelter in late September. Through their combined community reach, Subaru and Safe Harbor were able to see a record number of adoptions in October, helping to find homes for 231 animals, many with special needs and older in age. Aside from saving an overwhelming amount of animals' lives, this action also allowed the shelter some relief in its population and in preserving their resources in a year that was rocked by the Covid 19 pandemic. Safe Harbor is extremely thankful to have been able to partner with Subaru and always appreciates their contribution to the animal rescue community in Kenosha County.
---
Exceptional Customer Service - Art V
We received an email notification about an Over The Air STARLINK software update that was available for our new Subaru Forester. Unfortunately, our apartment parking area was too far from our WIFI to take advantage of the new software. I spoke with Bri at Kenosha Subaru and she scheduled an appointment for us. When we arrived at the dealership, Jack Byrne, the service advisor, welcomed us and took care of us. The Super Technician, Tucker Jurgens, did a great job of installing the software update for us. And to top it all off, we got a super car wash too. This is what we call the definition of Exceptional Customer Service. Thanks Kenosha Subaru team!
---
Kenosha Subaru Delivers Hope to Cancer Patients - Karen R
Kenosha Subaru delivered 80 blankets to the Advocate Aurora Vince Lombardi Cancer Clinic on Thursday, July 18, 2019. Blankets and care cards were received by nurses and social workers that will have the privilege of delivering them to patients in treatment. This year is the fourth year that Kenosha Subaru has made this generous gift through the Subaru Loves To Care Program. Nurses were excited to receive the blankets and were truly moved by the messages written on the care cards. Mike Bihun and the Kenosha Subaru team were fantastic ambassadors for the program. Each associate displayed passion for the project, professionalism and the delivery and genuine concern for the patients at Vince Lombardi Clinic.
---
Kenosha Subaru brings Hope to Cancer Patients - Katie K
The Leukemia & Lymphoma Society had the opportunity to partner with Kenosha Subaru during the month of June for the Subaru Loves to Care program. Thanks to Kenosha Subaru, we were able to meet with nurses and admin at the Aurora Vince Lombardi Cancer Care Clinic and deliver co-branded blankets, tote bags and messages of hope to give to cancer patients. It was a pleasure working with Mike, Laurie and the rest of the team from Kenosha Subaru. I know the employees at Aurora would agree as the majority mentioned they purchased their vehicles from Kenosha Subaru! Thank you team Subaru for making the world a better place, and for providing a positive impact to patients and their families in the community. You bring love, hope and warmth to those fighting cancer!
---
Kenosha Subaru Helps Athletes Reach Their Dreams! - Keri S
Thank you to Kenosha Subaru for sponsoring the Pleasant Prairie Triathlon and USA Paratriathlon National Championships! Thanks to your support of all these athletes and especially the paratriathletes and Dare2tri team.Your support enabled athletes with physical disabilities and visual impairments to Dare2tri and reach their goals. Over 60 paratriathletes and over 1200 able bodied athletes crossed the finish line of the Pleasant Prairie Triathlon.For many, this was the first of many finish lines they will cross.Dare2tri is extremely grateful to the support Kenosha Subaru and the Love Promise Program for all they have done to support our athletes and their dreams locally, nationally and internationally.Your support allows our athletes to reach and exceed their dreams! Thank you to everyone at Kenosha Subaru for their support of this race and the Dare2tri program!
---